Alumni of the BCCN Berlin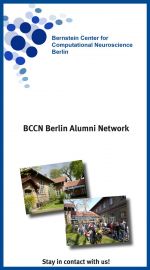 Stay in contact!
The BCCN Berlin alumni network is growing continously. If you want to be part and receive BCCN Berlin news from time to time or participate in our alumni workshop or have contact with other BCCN alumni and network a bit, subscribe to our alumni list under:
https://mailman.bccn-berlin.de/mailman/listinfo/bccnberlin_alumni
We would be pleased to have you with us, if you graduated in our graduate programs, did your PhD or postdoc in one of our labs or if you were a junior group leader, professor or staff member .
Our alumni work includes:
alumni lecture series with a social afterwards
alumni workshops
job postings of BCCN Berlin alumni
announcing open master thesis project in alumni labs
retreat participation
Any questions? Please contact Margret Franke (info (at) bccn-berlin.de)