Welcome to Berlin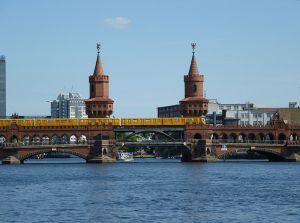 Berlin is both Germany's capital and one of the country's 16 federal states (Länder). Berlin is Germany's largest city with 3.4 million inhabitants. The city spreads across 892km² and is divided into 12 districts. Regarding the city's size it is very important that there are numerous forests, parks and garden plots – a total of more than 2,500 public recreational and green spaces – making Berlin a green city.
Founded in the 13th century, Berlin has had an eventful history. Almost no other metropolis has experienced such frequent, radical change transforming the face of the city. Although Berlin saw steady growth in its importance, dazzling epochs alternated with darker eras. Nevertheless, the formerly divided city has succeeded in becoming a vibrant metropolis in the heart of Europe. If you are interested in learning more about the city and its history check http://www.berlin.de/
Berlin offers a large number of things to do in your spare time. For example there are three opera houses, over 150 theatres and playhouses, over 170 museums and collections and over 200 private galleries. In addition, the capital is host to numerous top acts, artists and bands - every day nearly 1.500 events are on Berlin's cultural calendar. There are several magazines describing the ongoing cultural events taking place in Berlin which can help you on deciding what to do:
Exberliner is an English-language magazine for Berlin.
Zitty and TIP are both German magazines which are released out of phase every second week such that each week one of them is released.
International offices
The three big universities of Berlin are internationally oriented and seek to help foreign students to organize and enjoy their stay in Berlin. On their websites, all three universities provide information about the city of Berlin, the organization of the studies and the course offer, and about the things one has to pay attention to when moving to Berlin. Additionally, it is possible to call or visit the International Offices personally for concrete questions.
TU International Students Counseling
Hauptgebäude
Room H 51
Straße des 17. Juni 135
10623 Berlin
Tel.: +49 (0)30 314-24359
Further information is available here.
TU-DOC: Doctoral and Postdoctoral services
Johannes Moes
Fraunhoferstr. 33-36, Room FH 701
10587 Berlin
Tel.: +49 (0)30 314-29622
TU-DOC information: see here
HU International Office
Ulrike Spangenberg
Unter den Linden 6, Room 2245a
10099 Berlin
Tel.: +49 (0)30 2093 46712
HU Guide for International Students: see here.
FU International Office
Brümmerstraße 52
14195 Berlin
Tel.: +49 (0)30 838 70000
E-Mail: info-service@fu-berlin.de
Office hours
Mon, Tue 9:30 h to 12:30 h
Thu 14:00 h to 17:00 h
FU Guide "Meet the World": see here.